Education
The education of the next generation is a major focus of the communities in North Carolina's Southeast. Local school districts work to provide more than basic public education to their pupils. Through the creation of learning environments that build tangible skills and critical thinking, students in the region are prepared for the challenges of the 21st century. Graduates are ready for the next step, whether that means entering the workforce, or pursuing post-secondary education.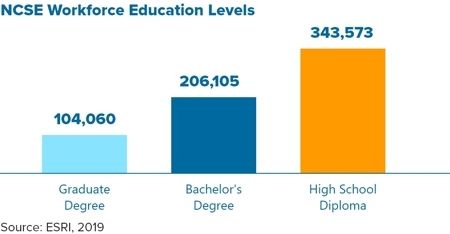 Higher Education
North Carolina's state universities and colleges educate 65,000+ students annually and produce more than 18,000 graduates each year. The Southeast region alone is home to more than 21 public and private universities and colleges, including three of the top performing universities in the U.S. Collectively the region's higher education institutions prepare students for a variety of careers across every industry the region supports.
More than 39,000 students are enrolled in bachelor's or master's programs in the region. NCSE universities include Fayetteville State University, Methodist University, St. Andrews University,
University of Mount Olive, University of North Carolina Pembroke, and University of North Carolina Wilmington.
Across the region another 77,000+ students are enrolled annually in community colleges, which grant associate's degrees and technical certificates. From there, students may go on to 4-year institutions or enter the labor force as highly skilled workers. These institutions have a community-specific mission and work directly with local industries to offer programs that meet existing and future workforce needs.
Top Universities and Community Colleges