For Site Selectors
The characteristics that make NC's Southeast economy strong are advantages you can leverage for your business: two international ports, seven military installations, a low corporate tax rate, foreign trade zones, well-respected colleges and universities, a productive agricultural base, and major interstate highways. The region has invested in assets that will give your business a competitive advantage in the global marketplace.
5 Metropolitan Statistical Areas with the following annual Gross Domestic Product
Fayetteville: $17 Billion
Wilmington: $13.6 Billion
Jacksonville: $7.9 Billion
New Bern: $5 Billion
Goldsboro: $4.4 Billion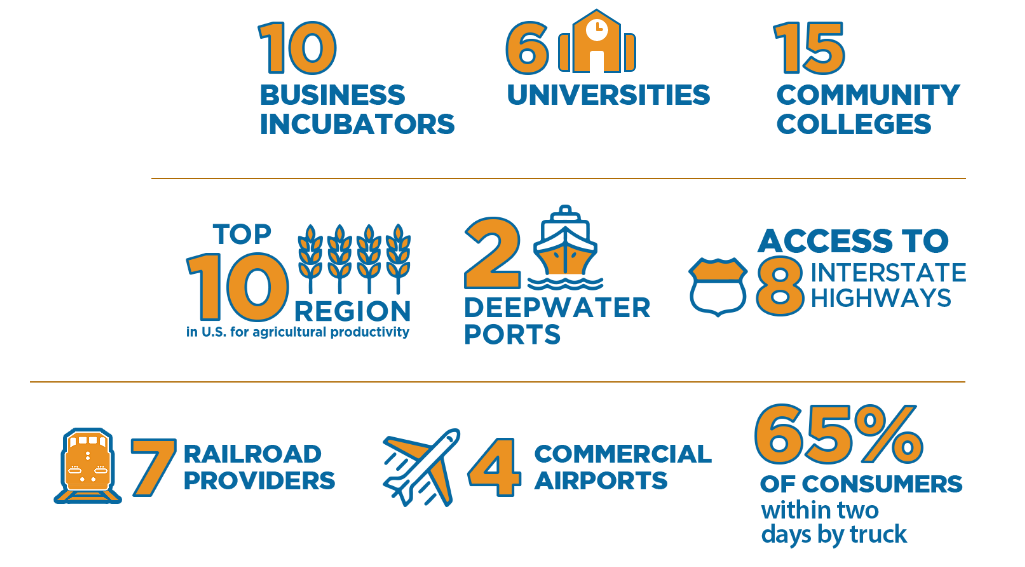 Labor Force Numbers worth Noting
---
808,000+ labor force
760,000+ employed in the region
8.6% regional unemployment rate
83,000+ military labor force
18,000+ military personnel exiting service every year
51% of the population is in the prime working age range
61% with college experience
20% with bachelor's degree
$700 regional average weekly wage
#2 lowest unionization rate in U.S.
NC is a Right-to-Work State
9 certified Work Ready communities
More Workforce Data
Home to 7 Military Installations
Fort Bragg (Army)
Marine Corps Air Station Cherry Point
Marine Corps Air Station New River
Marine Corps Base Camp Lejeune
Military Ocean Terminal at Sunny Point
Pope Army Airfield
Seymour Johnson Air Force Base
North Carolina's Southeast is a regional public-private economic development partnership serving 18 counties in Southeastern North Carolina. The Partnership's strong leadership in strategic planning, marketing, and business recruitment has helped facilitate more than $1 billion in new capital investment, 4,700 new jobs, and 32 company locations to the region from July 2014 to June 2019. Contact us to see how we can help grow your business in North Carolina's Southeast.
Find Available Properties Now